Catalina Island Conservancy Membership
As a Conservancy member you will be contributing to programs in conservation, education and recreation which protect, preserve and make accessible for all to explore.
Another great benefit of a Catalina Island Conservancy membership is that you gain access to Catalina Island Conservancy events and venues like the Wrigley Memorial & Botanic Gardens and discounts on a number of services like the Wildlands Express and popular Eco Tour.
Membership Benefits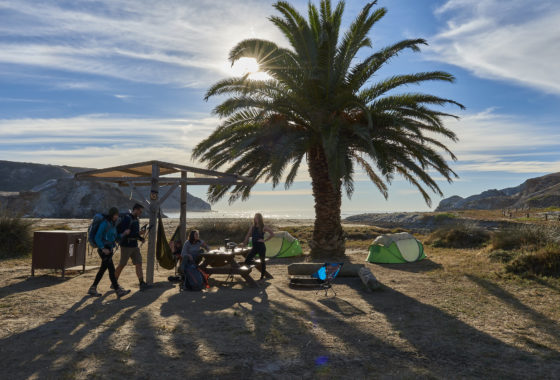 50% Off Conservancy Campgrounds
Contact Visitor Services at 310-510-4205 to redeem your Catalina Island Conservancy membership discount on the Conservancy's campsites: Black Jack, Little Harbor & Parson's Landing.
Free Freewheeler Bike Passes
Show your Catalina Island Conservancy membership card at any Conservancy location or at Two Harbors Visitor Services to redeem your bike pass.  Passes are only available on the Island.
Unlimited Admission to Wrigley Memorial & Botanic Garden
Show your Catalina Island Conservancy membership card at the entry for unlimited access to the Wrigley Memorial & Botanic Garden and popular Garden to Sky Hike!
Eco Tour & Wildlands Express Discounts
Book your Eco Tour or Wildland Express Shuttle at the Trailhead visitor center or by calling 310-510-2595 x100.
Catalina Island Conservancy Membership Levels & Benefits
Create a Catalina Island Conservancy Membership today!
Your Catalina Island Conservancy membership helps achieve a balance of conservation, education and recreation goals that ensure the ecological health of the Island.
Become a Member
Leadership Circle
Catalina Island Conservancy Leadership Circle
Leadership Circle is a special membership level composed of a group of extraordinary donors of the Conservancy who are major advocates for protecting and restoring Catalina Island.
In recognition of such generous support, Leadership Circle members receive all the benefits of general membership, PLUS exclusive privileges granting insider access to experience the Island as few do, including:
• Invitations to exclusive Leadership Circle events
• Personalized "behind-the-scenes" Island tours
• Recognition on the Honor Roll Display in the Trailhead
• Complimentary Conservancy gift for new members
Become a Leadership Circle Member
Support Groups
Catalina Marineros
Marineros are Conservancy members at the Adventurer level and above, who are boaters or people who enjoy the ocean. Each year the Marineros support group holds events that provide unique experiences on Catalina Island. These often blend boating and hiking, such as the BZ Jones hike, on-island work parties, and special boating events including movies and tours. You can add this to your membership for free upon purchase at the Adventurer level or above.
Aero Club/ Turbo Club
Aero Club members are pilots at any member level who purchase the additional $175 Piston/$325 Turbine annual landing fee. Aero Club combines general Conservancy membership benefits with unlimited annual landings at the Airport in the Sky and a free Killer Cookie! Aero Club/Turbo Club members receive invites to Conservancy events and hikes, and serve as stewards for the Island. To join Aero Club or Turbo Club, purchase a base membership and add on the unlimited landings option.
Catalina Caballeros
The Catalina Caballeros is an equestrian membership support group of the Conservancy. Caballeros are male and female riders who participate in their annual rides, occasional volunteer workdays on the Island, socials on the mainland, and Conservancy fund raising activities.